Ready to create your own custom sash? Select a Quick Order product below to tell us your custom text, colors, & graphics. ---- Yes! Rush orders available, select 1 or 2 days for production time when ordering.
Our Sashes are used for television & movies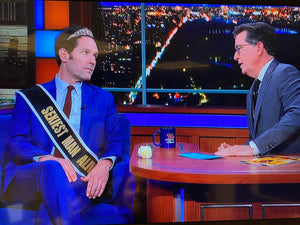 Stephen Colbert TV Show - Paul Rudd
People Magazine named Paul Rudd as the Sexiest Man Alive.
The Stephen Colbert tv show hosted Paul Rudd and filmed an entire comedy skit where Paul Rudd pretended to audition for the title and was then awarded the title complete with our Custom made Sash and a rhinestone Tiara.
Movie Quality Sashes!
When you want the very best quality you have found the sash company to create a beautiful professional product just for you.
Every sash request is one of a kind and very important to us. Whether you want 1 single sash or you want 10+ sashes for a large event, your sash is important to us.
Browse our many product samples, or send us a quick email with a description of what you want us to create for you.
Your sash will be worn with pride and will make a priceless keepsake for years to come.
Everyone deserves a 'Movie Quality' sash!
View Sash Options Here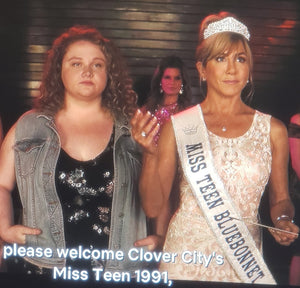 Dumplin' Netflix staring Jennifer Aniston
This beautiful sash was warn by Jennifer Aniston in the Netflix movie DUMPLIN'. The Netflix show production ordered 4 sashes from CustomSashes.com for this film. You can see 3 of the 4 sashes if you watch the film closely.
Sash Description & Details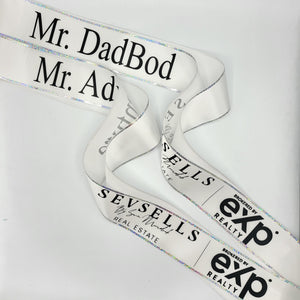 3" Ribbon Economy Sash (No Border Option)
Dimensions: 3" wide x 70" long (shorter or longer by request)
Wrap around the body with velcro
Printed Matte or Printed Glitter Text
Front & Back Text allowed
Graphics, Text or Logos on shoulder or hip
Add Sequin Trim or Scattered Rhinestones or both!
create a basic ribbon sash: click here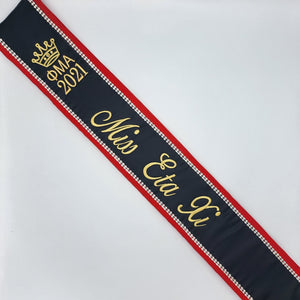 4.25" Premium Satin Fabric Sewn Sash (Border Optional)
Dimensions: 4.25" x 70" approx.
(shorter or longer by request)
Embroidered or Printed Text (Matte or Glitter)
Wrap around full sash w/ velcro at hip
Front & Back Text allowed
Add Graphics, Logo, Text to hip or shoulder
Add Rhinestone Chain, Sequin Trim
Create a premium fabric sash: click here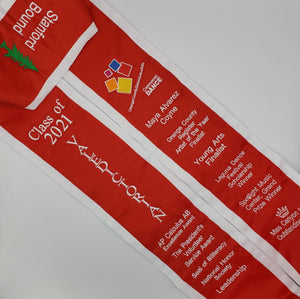 4.5" Fabric Satin Sewn Graduation Stole (Border Optional)
Dimensions: 4.5" wide x 70" long approx. 
Embroidered or Printed Text
Neck area customizable
Add Graphics, Logos, Seals & Text
Add Sequin Trim or Rhinestone Trim
Create a fabric stole: click here
Let us Help you Place your Sash Order
Need an EXTREME RUSH ORDER? Yes we can do it!
'Rush Production fee' pricing is based on the number of "business days of production time" we have to make your order PRIOR to shipping.
We do 1 day, 2 day, 3 day, 6 day, 8 day, and 12 business day production options.
Anything that ships more than 15+ business days does not need rush fees.
We answer questions and also take orders by phone. Call 253-221-7675
or by email via the Quote Request Form - Where you can also upload a photo of your sash idea or specific logo.
Let us Help you Place your Sash Order - Start with a quick price quote!
3 options to choose from:
-Fill out the Request Quote Form to receive a quote by email
-Call us directly at 253-221-7675 for urgent orders or questions
-Use the Online Sash Designer to create your own sash  
.
.
Popular Events to create a sash for: *Click to view customer photo samples
Etc.
We Carry Other products to make your event complete
Testimonials
I just love your sashes and I am going to promote you as my only sash maker.  

Rena
Chantelle is so awesome! I had an obscure last minute request and she knocked it out of the park! Seriously, best/fastest response time and when I got the product it was better than what I pictured. 10/10! Thank you so much Chantelle, I will definitely be returning.

Jessica R
Thank you for the spectacular sash you made for Humboldt's parade Grand Marshal.

At first she was not thrilled at the idea of being chosen for this honor, but she wore that sash ALL night long!  She was humble but also so proud! 

The sash was of the highest quality, very fitting for this fine lady. THANK YOU - both for the extra quick turn around time and for the perfect sash! 

Some Sashes may be just an article worn for a short time, then put away for a year or more. Others, like this one, will be treasured for generations to come.

Kris